Obituary of
Philip Howard Frakes
(25 February 1929 - 16 September 2005)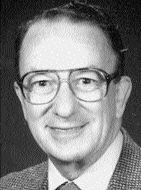 Funeral services will be held Tuesday, September 20, 1:30 P.M. at the Rogers-Atkins Funeral home in Salem for Philip Howard Frakes, 76, of Salem. Burial will follow at Sandy Branch Cemetery in Foster Township, with military rites from the American Legion of Salem. Rev. Norman Mills from the Salem First Baptist Church will officiate. Visitation will be held on Monday from 6:00 - 8:00 P.M. with Masonic Rites.
Frakes died 6:00 A.M., Friday, September 16, at his home in Salem. He was born 25 Feb 1929, Salem, Illinois, the son of William Philip and Beatrice Margaret Julietta (Merten) Frakes. He married Monna Marilyn "Polly" Conant on 8 October 1952, Cairo, Illinois. She survives.
Frakes retired from Illinois Bell Telephone Company after more than 33 years of service. He also retired as manager of the Drivers License Facility of Salem. Frakes was owner and manger of the Frakes Lumber Company and Hardeware Store in Patoka in the late 70's and early 80's.
Frakes served in the United States Army during the Korean War and while serving in Korea, he was raised to the rank of first lieut. After returning to the United States, he was raised to the rank of Captain in the Illinois National Guard. And as Military Aide to Governors Jim Edgar and George Ryan, he received the rank of Colonel.
Frakes was active in both political and commuinty affairs. He served as Chairman of the Marion County Republican Central Committee for several terms. He also served as republican precinct committeeman of Salem 2 and Foster Township for several years. He was secretary of the Salem Shrine Club, having also served as president. He is a member of the American Legion and VFW. He was a member of the Kinmundy Lions Club for a few years.
Frakes has been a Sunday school teacher at the First Baptist Church of Salem for many years. He was a deacon at the First Baptist Church of Springfield, Illinois.
Survivors include: daughter Tanya Belfiore and son Stephen Frakes of Salem; daughter Terri Adams and husband Rick of Patoka; Grandson Nathan Courtright and wife Angie Albert of Salem; Grandsons Trent Adams and Brock Adams of Patoka; Grandson David Philip Belfiore of Salem; Grandson Daniel Belfiore of Collinsville; and great-granddaughters Jill Riley and Madison Courtright of Salem. Also surviving is his brother William R. Frakes and wife Betty Hammer of Collinsville; and sister Julianne "Judy" Thurman and husband Howard, Jr. of Bakersfield, California. Also surviving are several nieces and nephews.
Besides his parents, he was preceded in death by his grandparents Julius and Anna Maier Merten of Salem; and Francis Marion and Hannah Margaret C. Arthur Frakes of Vigo County, Indiana.
Pall Bearers were grandsons Nathan Courtright, Trent Adams, Brock Adams, and David Philip Belfiore, and nephew's Stanley Jones and Roger Jones.
Memorials may be made to Shriner's Hospital; the Scleroderma Foundation; or Sandy Branch Cemetery.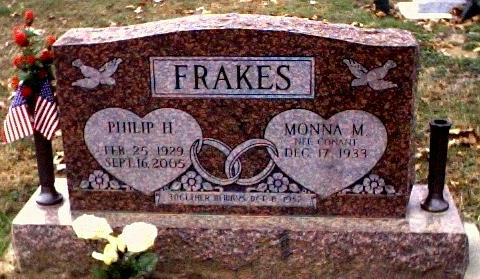 ]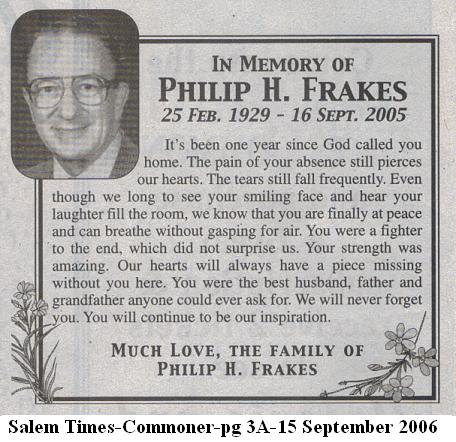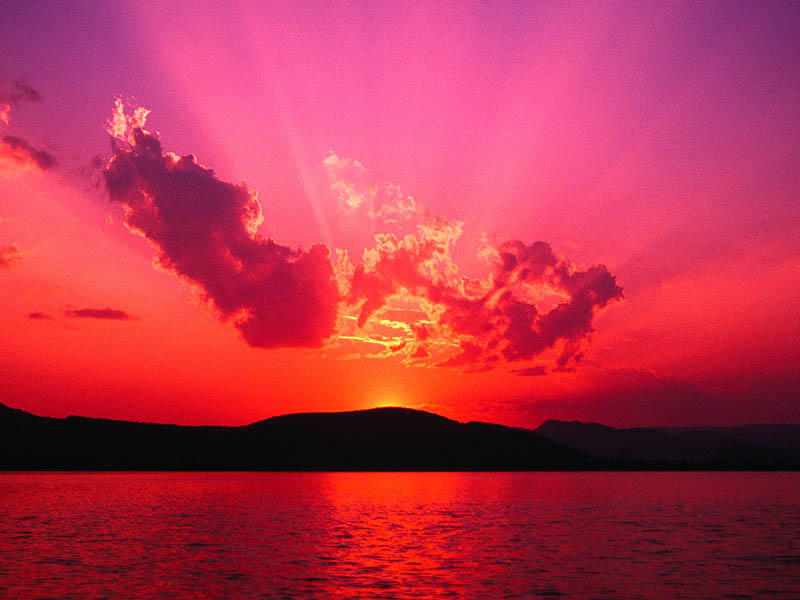 ---
---
Press Here to go to:
Phil Frakes Home Page
---
---
Press Here to go to:
Sandy Branch Cemetery
---
---
Copyright © 2005-2019 stephenfrakes All rights reserved.