Philip Howard & Monna Marilyn (Conant)Frakes
50 Years - (1952 - 2002)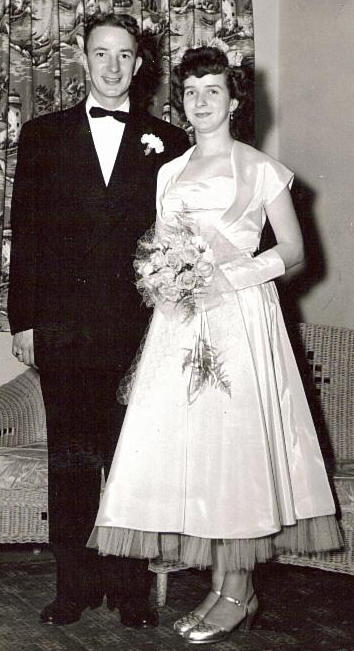 Phil and Monna - 1952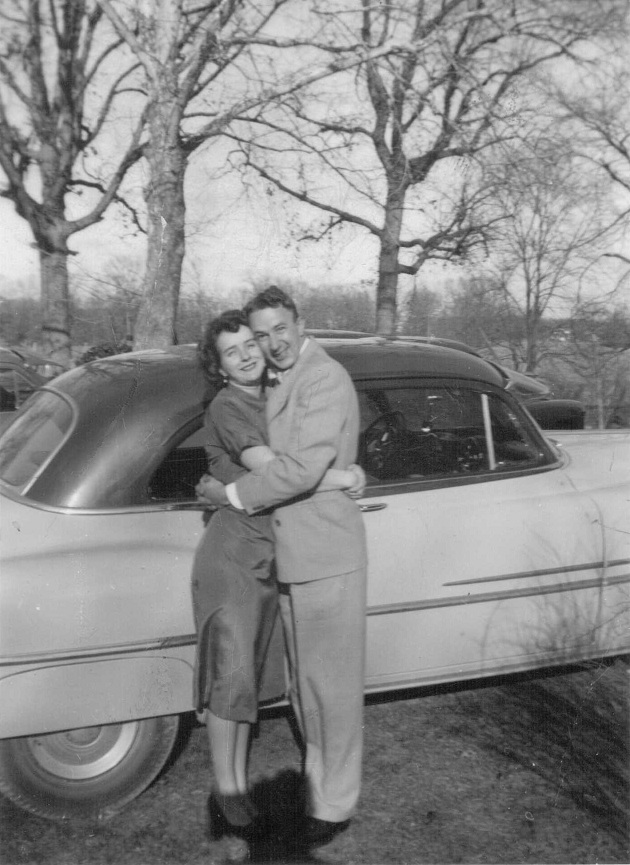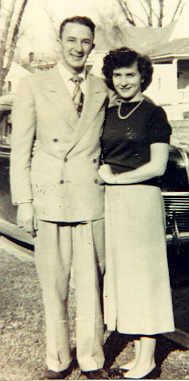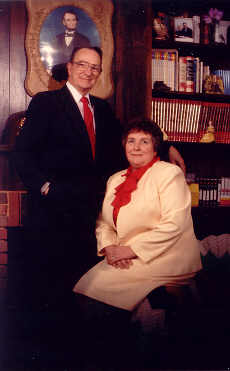 The photo at left and the photo at right were taken at the Lemen-Frakes House, 321 South Franklin Street in Salem, Illinois. The first one in 1952, when Phil's parents were living there. The second one was taken when Phil and Monna were living there with their son, Stephen and grandson, Nathan in 1989.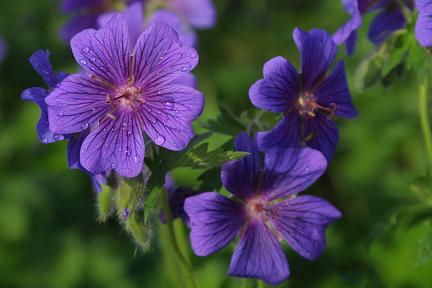 Philip and Monna married the 8th of October, 1952 in Cairo, Illinois. Phil's brother, William Randolph Frakes and his wife (also a cousin of Monna's), Betty Jean (Hammer) Frakes, stood up for them at the wedding. They were married at the Baptist Church. Bill's brother had become a Baptist and that is why they chose that church.
Phil and Monna met at their place of work. They both were employed with Illinois Bell Telephone Company in Salem, Marion County, Illinois. The day they met, Monna was trying to get into the door of the office (it used a code to get in) and she couldn't seem to get it opened. Phil came along and opened the door for her.
And by the way, her name is Monna, not Mona. It is pronounced like Donna with an M. Or you can call her Polly, which is the name her family calls her.
After their honeymoon at Kentucky Lake, they returned to their home in Salem and then Phil returned to active duty with the United States Army.
After Phil returned from the Korean War, they moved to Edwardsville, Madison County, Illinois. There they both worked for Illinois Bell Telephone Company. They first rented a home, then built a little house. They built a larger house later, shortly before moving.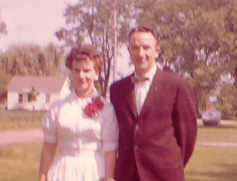 Phil and Monna taken at the home of Monna's mother, Grace Bassett Conant, on one of their many weekend trips home to Marion County to visit their mothers. Kinmundy, Illinois - 1960
While in Edwardsville, all three of their children were born. Tanya Rae Frakes was born the 7th of July, 1955. Stephen Philip Howard Frakes was born the 2nd of October, 1957. Terri June Frakes was born the 22nd of June, 1962. All in Highland, Madison County, Illinois.
In the winter of 1962-63, they moved to Springfield, Illinois. Philip was transferred there. There were no openings for telephone operators, so Monna began working as a sales clerk at Sears. She later became a desk clerk at the Holiday Inn East, which was the nicest and largest hotel in Springfield at the time.
A big move was made in 1972. In January, they decided to move to Marion County, Illinois so that their children could go to the schools there, rather than the city schools. They rented the Nichols Home on the Kinoka Road in Foster Township. (The Nichols home was quite old and very nice. It was built by David F. Nichols. Edith Nichols, wife of the late Ankney Nichols, was the owner of the house when they rented. Mrs. Nichols was one of the best friends of Monna's great-grandmother, Maggie (McWhirter) Bassett.) The children began attending school at the Kinmundy-Alma School in Kinmundy. Phil continued working in Springfield and would drive down to Marion County for the weekends. He eventually was tranferred to Edwardsville, which was closer, then finally to Salem and Centralia. Monna worked at the Holiday Inn in Salem and then as a waitress at the H & H Truck Stop in Kinmundy.
They had bought the Arnold Farm just down the road from the Nichols Home. It consisted of 40 acres on the southwest corner of Kinoka Road and Jones Road. They had built a dam, making a nice large pond on the property. It also had about 20 acres of woods and 20 acres of farm land. They decided to build a home on the property. They moved into the home in the winter of 1972-73. It was a beautiful modified A-frame home built into the woods near the pond. Everyone helped build the house, Phil, Stephen, Monna, Terri, and Monna's sister's family, Floyd, Stan and Roger Jones.
In 1979, Phil retired from the Illinois Bell Telephone Company after 33 years of service. He bought the Irwin Lumber Company and Hardware Store in Patoka. The name was changed to Frakes Lumber Company and Hardware Store. He ran that for three years and then closed it. The economy became so bad that all of the small town lumber companies in the area ended up closing.
They sold 35 acres of their farm to Monna's sister and husband, Floyd and Marjorie (Conant) Jones, including the house, but kept 5 acres on the southeast corner. They then moved to Salem into the historic Lemen-Frakes Home, which was the home Phil lived in as a kid. His grandparents, Julius and Anna (Maier) Merten, were the first of our family to live in the home. His parents then bought the home in 1941. Phil and Monna moved during the winter storm of January, 1982.
Phil began driving school buses for special events for a short time. He then became the manager of the Drivers License Facility in Salem, working for the Illinois Secretary of State. During this time he became more invloved in politics and eventually became the Republican County Chairman of Marion County. He was also apointed Military Aide to Governor Jim Edgar and and then re-appointed by Governor George Ryan. He remained active in politics until 2005, when he had to give up being precinct committeeman in Salem 4, because of his poor health.
Monna began working as a clerk at a gas station. She then got a very good job working for North American Lighting in Salem, which she worked at until she retired.
Monna is also involved with the Salem Republican Women's Club.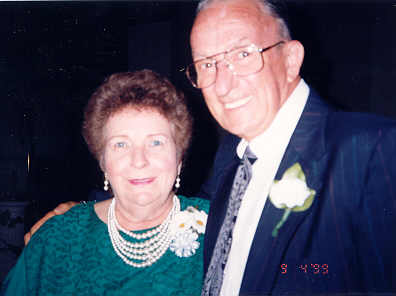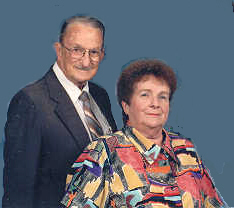 Photo on left is Phil and Monna at their grandson's (Nathan Roddy Alan Courtright's) wedding in Salem, Illinois in 1999. He was their first grandchild and first grandchild to get married.
Photo on right was taken in 2001 at the First Baptist Church of Salem, where Phil was a Sunday School teacher, which he also had to give up in 2005 as a result of his poor health.

Children of Philip Howard and Monna Marilyn (Conant) Frakes:

1. Tanya Rae FRAKES, born 7 Jul 1955, Highland, Madison County, Illinois.
Tanya married 1st Roddy Alan COURTRIGHT of Louisville, Clay County, Illinois.
Tanya married 2nd David Joseph BELFIORE of Denver, Colorado.

2. Stephen Philip Howard FRAKES, born 2 Oct 1957, Highland, Madison County, Illinois.

3. Terri June FRAKES, born 22 Apr 1962, Highland, Madison County, Illinois.
Terri married Richard Dale ADAMS of Patoka.


Grandchildren of Philip Howard and Monna Marilyn (Conant) Frakes:

1. Nathan Roddy "Nate" COURTRIGHT, born 11 Dec 1973, Centralia, Marion County, Illinois.
Nate married Angie Jaye (ALBERT) RILEY, born 18 Mar 1972. Marion County, Illinois.

2. Trent Maurice ADAMS, born 5 Dec 1982, Centralia, Marion County, Illinois.

3. Brock Richard ADAMS, born 26 Sep 1985, Centralia, Marion County, Illinois.

4. David Philip Anthony BELFIORE, born 18 Oct 1985, Orlando, Orange County, Florida.
David Philip married Samantha DANIELS.

5. Daniel William Eli BELFIORE, born 3 Feb 1992, Belleville, St. Clair County, Illinois.


Great-Grandchildren of Philip Howard and Monna Marilyn (Conant) Frakes:

*. Jillian Rebecca RILEY, born 21 Sep 1992, Beaufort, South Carolina, Stepdaughter of Nathan Courtright and step-great-granddaughter of Phil and Monna, whom they love as if she were family by blood.

1. Madison Jaye COURTRIGHT, born 29 Mar 2002, St. Joseph's Hospital, Breese, Clinton County, Illinois.

2. Wyatt Rodney William BELFIORE, born 17 Dec 2009, St. Joseph's Hospital, Breese, Clinton County, Illinois. (Son of David and Samantha.)

3. Ryleigh Rae BELFIORE, born 6 Dec 2013, Centralia, Marion County, Illinois. (Daughter of Daniel and Erica.)

4. Hadleigh BELFIORE, born 11 Jul 2014, Breese, Clinton County, Illinois. (Daughter of David and Andrea.)

5. male ADAMS, born Aug 2015, Effingham, Effingham County, Illinois. (Coming soon)






Arizona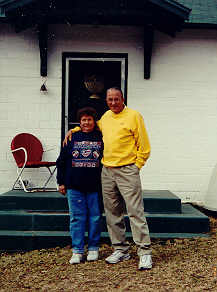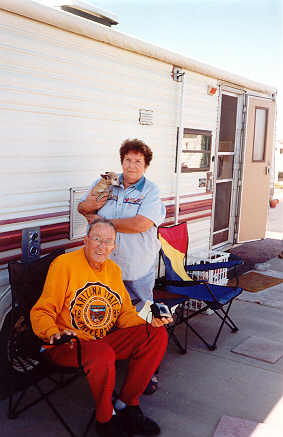 Phil and Monna began spending their winters in Apache Jct., Arizona so that they could enjoy the warm weather during the winter.

Photo at left: Phil and Monna on one of their weekend trips up to the Verde Valley to visit their son Stephen's, whose home was on Cornville Ranch, in 2001.

Photo at right: Phil and Monna at their trailer in Apache Jct., with Tiki, their dog, where they spent their winters enjoying the mild Arizona weather in 2002.

The middle photo above is Superstition Mountain, which was the view that Phil and Monna had in Apache Jct.




50th Golden Wedding Anniversary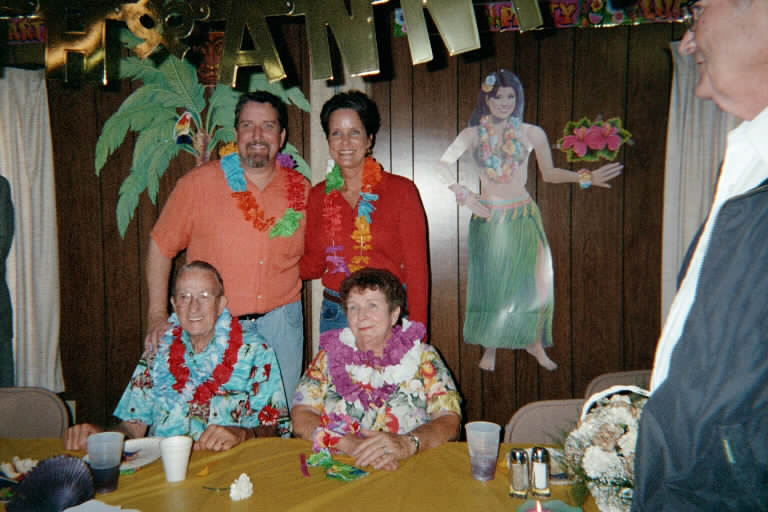 Philip H. Frakes & Monna M. (Conant) Frakes
and son and daughter
Stephen P. H. Frakes & Terri J. (Frakes) Adams
---
---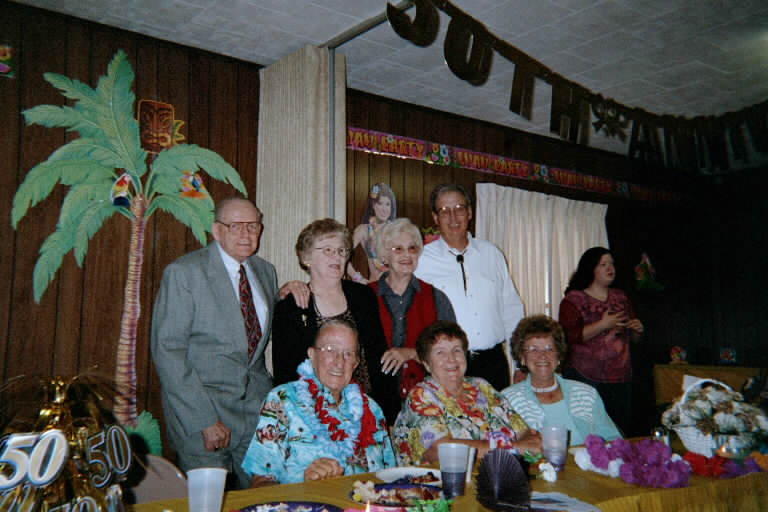 Seated:Phil & Monna and Monna's sister, Marjorie E. (Conant) Jones.
Standing left to right: Willim R. & Betty J. (Hammer) Frakes and Julianne M. (Frakes) & Howard G. Thurman, Jr.
---
---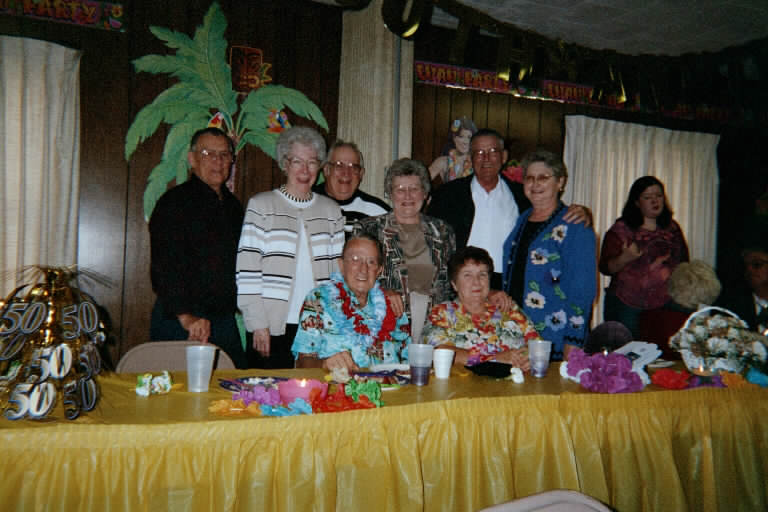 Phil & Monna with their good old friends standing left to right: Felton "Jr." & Shirley Jose, Mr. & Mrs. Harold Lyons, Jack & Willadene Storment.
---
---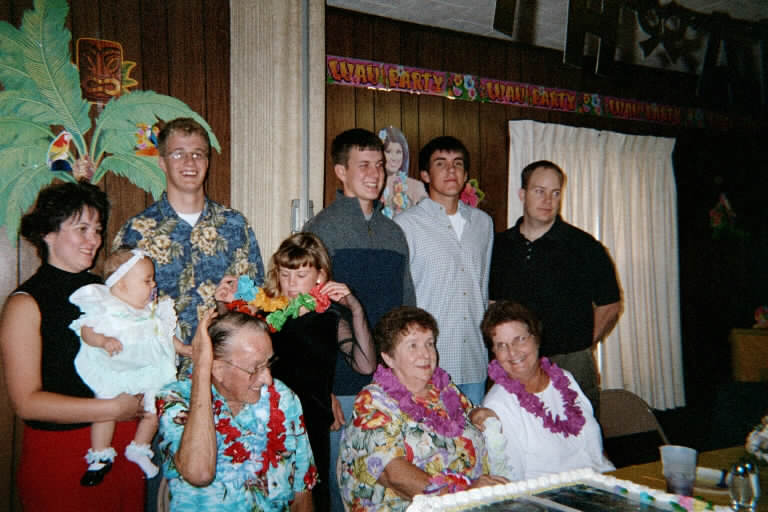 Grandchildren of Phil & Monna standing left to right: Angie Jaye (Albert)(Riley)Courtright holdling Madison Jaye Courtright, David Philip Anthony Belfiore, Jill Riley, Trent Maurice Adams, Brock Richard Adams and Nathan Roddy Alan Courtright. Betty Fulton Ray seated next to Monna, wonderful friend of the family.
---
---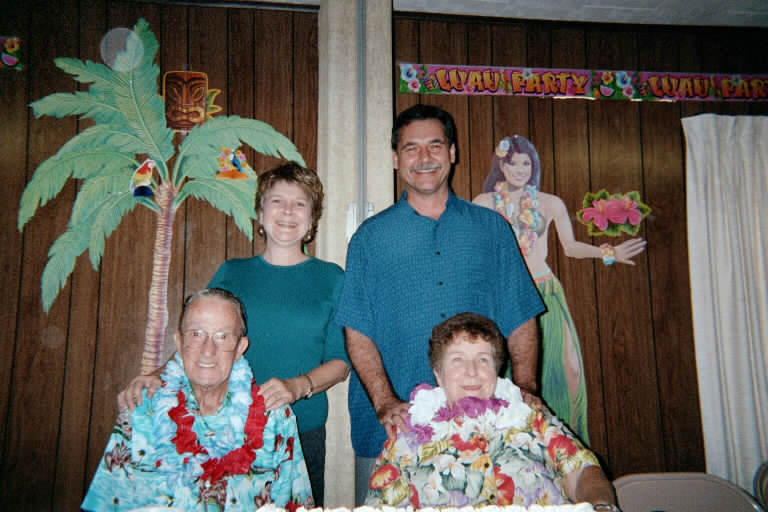 Phil & Monna with niece Pam See and husband Doug Fontana who share the same wedding anniversary of October 8.

A little about my dad...
Philip Howard Frakes

A little about my mom...
Monna Marilyn Conant Frakes

Philip died 6:00 A.M., Friday, 16 September 2005
at his home in Salem, Illinois.
Obituary of Philip H. Frakes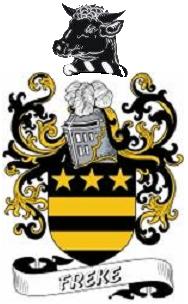 Our Frakes Family History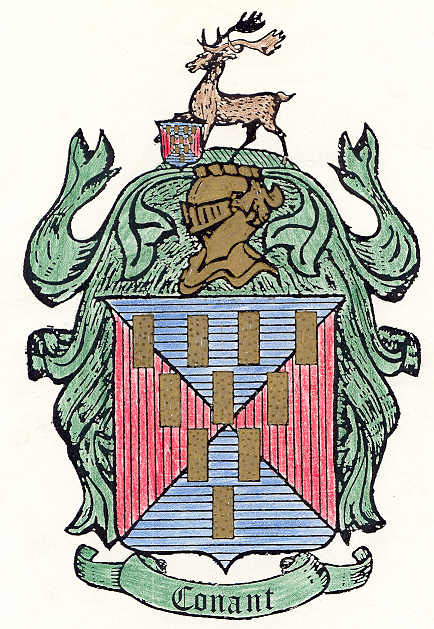 Our Conant Family History.


Updated:
23 June 2022
Copyright © 2002-2022 stephenfrakes All rights reserved.